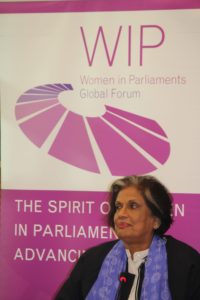 The Women in Parliaments Global Forum (WIP) and the EU Women Caucus organised the second event of the series of discussions "Leadership Journeys" with Chandrika Bandaranaike Kumaratunga, President of Sri Lanka (1994-2005). The event took place on 13 October, at the European Parliament.
The EU Women Caucus aims to connect senior female leaders in Brussels in an informal environment and the series features the leadership journeys of outstanding women.
Pictures of the event can be found in this link.