The prescriptions on global immunisation are out, and the world is their patient.
A digital conversation held on 9 March was powered and organised by Women Political Leaders (WPL) and saw the participation of three former heads of state, WPL Global Ambassadors for Vaccination Aminata Touré and Kolinda Grabar-Kitarović, and José Manuel Barroso, Chair of the Global Vaccine Alliance (GAVI). 
This high-level panel with vast experience in shaping global health policies was convened to discuss the importance of immunisation for global health, ways to ensure equal paths to immunisation, how to counter misinformation surrounding vaccines, and strategies for addressing inequalities in vaccination.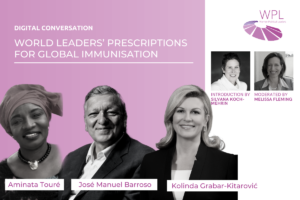 The prescriptions for global immunisation from Aminata Touré (President of Economic Council (2019-2020), Senegalese Prime Minister (2013-2014) and Minister of Justice/Attorney General (2012-2013), and Member of the Council of Women World Leaders) called for universal access to vaccines. She remarked that vaccines should be equally distributed not only amongst countries but also within them. Dr. Touré further highlighted that in many countries, certain populations are being left out, specifically rural women. To this, José Manuel Barroso (GAVI Vaccine Alliance Chairman, Goldman Sachs International Chairman, President of the European Commission (2004-2014), Prime Minister of Portugal (2002-2004), and Member of the WPL Global Advisory Board) added that vaccine roll-outs in many countries are following a systemic discriminatory administration of vaccination, with many population groups (immigrants, refugees, people in occupied territories) being excluded. Dr. Touré recommended that in order to avoid these problems, international organisations should establish clear guidelines on who should be vaccinated and in what order. Mr. Barroso's prescription on vaccine inequality included a call for G-20 countries and the UN to support COVAX and its multilateral facility. He pointed out that for the world to attain global immunisation, developing countries must have the same access to vaccines as developed countries.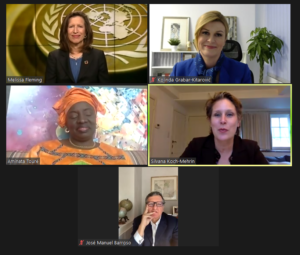 Discussing vaccine hesitancy, moderator Melissa Fleming (Under-Secretary-General for Global Communications, United Nations) addressed the misinformation that citizens are receiving via the internet and social media. She mentioned the current grave problem of 'conspiracy theories' surrounding vaccines. To alleviate this, Kolinda Grabar-Kitarović (4th President of Croatia (2015-2020), WPL Global Ambassador for Vaccination, Chair Emerita, and Council of Women World Leaders (2019-2020)) prescribed information and education campaigns rooted in Science. She added that, although vaccine hesitancy in some countries was indeed high earlier in the pandemic, as the vaccine is being more widely administered, citizens are beginning to feel comfortable with it. She suggested that leaders be more outspoken about the side effects of vaccines, so that citizens are given facts not only through the media; in this way, more people will understand that vaccination is a common good for the world and not harmful.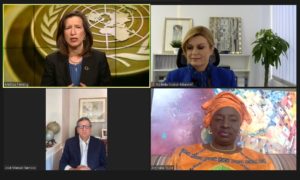 The voices of both female politicians and female healthcare leaders are crucial to defining viable and successful public health policies plans, as well as women's health in particular and women's issues around the world. WPL recognises and supports the role that women leaders are playing in the advance of healthy populations. 
Watch the webinar here: