Girls are the leaders of tomorrow and the future of our society. To #LeadLikeAGirl means leadership with heart and brain.
On the International Day of the Girl, influential women politicians from 24 countries hosted more than 1,500 rising young leaders during #Girl2Leader campaign events on five continents. Thanks to a global video call, #Girl2Leader delegates connected with girls attending events around the world, generating the base for new networks of future women politicians.
During these events worldwide, the girls had the opportunity to hear female leaders talking about their journey in politics and to ask them questions, creating an inspiring dialogue about gender, power and equality. Some of the most powerful women in politics encouraged the girls not to be afraid to speak their mind, to be brave, to start acting to change society for the better, because women truly are able to lead with both their hearts and their brains.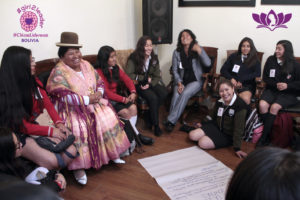 Bolivian Parliamentarian Jimena Costa strongly believes that these girls have the power to change the world: "You should enter politics to transform it," she said to her #Girl2Leader Delegates, "so that the old practices will not be repeated again."
Marie-Louise Coleiro Preca, President of Malta and Patron of the #Girl2Leader campaign insisted on the power of education to change our society: "The goals of education, empowerment, personal development and resilience are at the heart of the campaign. We are enhancing the participation, the visibility and the inclusion of our girls and young women in politics."
From the #Girl2Leader event in the United Kingdom, Member of Parliament Jess Phillips tweeted: "I could not have been more proud of these girls in Parliament today. When they leapt to their feet to have their say they gave me hope." Sharing her thoughts about meeting the girls, Phillips demonstrated that these events mattered not only to the girls, but especially to the women politicians that hosted them.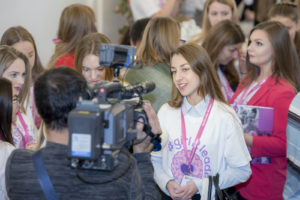 In Brussels, Member of the European Parliament Eva Maydell shared some important advice with the young girls. "When I got involved in politics," she said, "I thought I had ideas to change society. My advice is to be active, to get involved. Find your role model, get in touch with them and ask for guidance!"
WPL President Silvana Koch-Mehrin emphasised the privilege of getting involved in politics. "Being a politician is like being under a microscope," she said to the girls attending the event at the European Parliament, "Your failures may look bigger, but all your successes are bigger too, because people celebrate with you."
On social media, the hashtag #Girl2Leader had 8,2 million impressions worldwide, 33 thousand engagements and over 3,5 thousand mentions globally. For more information, you can find the social media report here. Get the latest updates about the #Girl2Leader activities on the official website.