On June 30th, Silvana Koch-Mehrin, President and Founder of Women Political Leaders (WPL), joins the APEC Women Connect Online Conference for the panel session, "Public & Private collaboration Empowers Women". The discussion focuses on the issues surrounding gender equality and the role of digitalisation in empowering women at the crossroads, particularly throughout the pandemic. It is also an opportunity to uplift women leaders and entrepreneurs from around the globe by sharing their experiences and advice.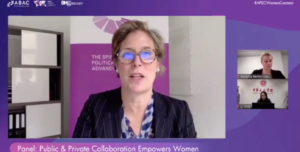 During the pandemic, the world witnessed the swift and comprehensive actions of women leaders. Their demonstrations set the standard of a new 'normal' with women at the center of the decision-making process. Supporting the opportunity for recovery, Silvana Koch-Mehrin remarks on the role of digitalisation in building a community for women leadership and empowerment, "[WPL] was established as the first network ever of thousands of women politicians from around the globe […] We provide community, connection, and communication for women leaders. We do this at our own Women Political Leaders Summits. "
In addition to uplifting the voices of women leaders, the panel addresses the role perception plays in influencing participation. "Perception influences women's participation in every aspect of society. We can see that in countries or sectors where the attitudes or policies don't facilitate women's leadership," says Silvana Koch-Mehrin. Encouraging everyone to realise the value of equality, she introduces the Women Political Leaders' Leading Edge, an initiative that "showcases examples of women business leaders across sectors and around the world. Visionaries, many like you, and certainly like Dianne." 
You can hear more from this panel discussion by watching the recorded session, or learn more about the APEC Women Connect Online Conference by visiting their website.