Women European Leaders (WEL), the community of the Women Political Leaders Global Forum (WPL) representing leading women in the EU institutions, hosted a conversation in its "Leadership Journeys" series with Julia Gillard, former Australian Prime Minister and Chair of the Board of Directors of the Global Partnership for Education.
This event was hosted by Ms Helen Stylianou, Deputy Head of the Australian Mission to the EU and NATO. Hanna Birna Kristjánsdóttir, Chair of the WPL Executive Board and former Icelandic Minister of Interior, opened the meeting.
Pictures of the event here
Julia Gillard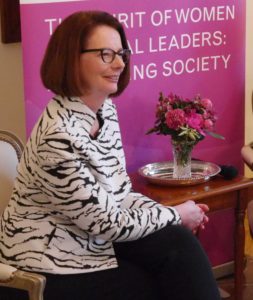 Ms. Gillard is the first woman to ever serve as Australia's Prime Minister and Deputy Prime Minister. In October 2012, Ms Gillard received worldwide attention for her speech in Parliament on the treatment of women in professional and public life.
In recognition of her remarkable achievements and public service, Ms. Gillard was awarded a Companion in the Order of Australia in January 2017.
Ms. Gillard served as Prime Minister of Australia between 2010 and 2013 and delivered nation-changing policies including reforming Australia's education, improving the provision of health care and commencing Australia's first ever national scheme to care for people with disabilities, among other things.
Before becoming Prime Minister, Ms. Gillard was Deputy Prime Minister and Minister for Education, Employment and Workplace Relations and Social Inclusion.
Julia Gillard joined the Global Partnership for Education –which is a global fund dedicated to education in developing countries– as chair of the Board of Directors in 2014 after her distinguished public service career in Australia.
WEL 'Leadership Journeys'
Women European Leaders (WEL) invites remarkable personalities to share the stories of their personal journey to positions of leadership. These convivial gatherings aim to connect senior female leaders in Brussels and provide a relaxed setting to gain personal and professional inspiration.
WEL is a key community under the umbrella of the Women Political Leaders Global Forum (WPL). It is an EU cross‐party and inter‐institutional platform for senior female leaders working in the EU institutions and who are at the forefront of European politics: Members of the European Parliament, Commissioners and Director Generals from the European Commission, and Ambassadors to the European Union.