On the occasion of International Women's Day, Women European Leaders (WEL), the community of the Women Political Leaders Global Forum (WPL) representing leading women in the EU institutions, organised the latest event in its "Leadership Journeys" series. Michäelle Jean, Secretary-General of the Organisation Internationale de la Francophonie (OIF) and former Governor General of Canada, was the guest of honour. Jean shared the compelling story of her personal journey to leadership.
This event was co-organised by Women European Leaders (WEL) and the Permanent Representation of the OIF to the EU and was hosted by the Ambassador of the Romanian Permanent Representation to the EU, Luminita Teodora Odobescu.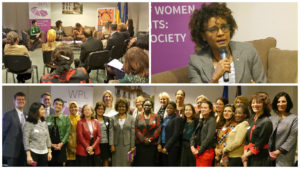 Michäelle Jean
Michäelle Jean has been Secretary-General of the OIF since 2015 and was Canada's Governor General from 2005 to 2010. Jean is an inspiring political leader with a remarkable career.
Jean was born in Port-au-Prince, during the era of the Duvalier dictatorships in Haiti, and fled to Canada with her family at the age of 10. Before becoming a political leader, Michäelle Jean was a prominent journalist,  documentary filmmaker and social activist. She was the first black reporter on French TV news in Canada.
Jean was UNESCO's special envoy to Haiti and created the Michaëlle Jean Foundation to help underprivileged youth in rural and northern Canada. She has also been deeply involved with helping women and children who were the victims of domestic violence.
Leadership Journeys
Women European Leaders (WEL) invites remarkable personalities from outside the Brussels scene to share the stories of their personal journey to positions of leadership. These convivial gatherings aim to connect senior female leaders in Brussels and provide a relaxed setting to gain personal and professional inspiration.
WEL is a key community under the umbrella of the Women Political Leaders Global Forum (WPL). It is a cross‐party and inter‐institutional platform where senior female leaders working in the European Institutions come together to talk about issues that are high on the international agenda, as well as about their personal leadership journeys. WEL consists of women who are at the forefront of European politics: Members of the European Parliament, Commissioners and Director Generals from the European Commission, and Ambassadors to the European Union
.