What are the unparalleled security challenges that the international community currently faces?  How can we peacefully resolve these socio-humanitarian crises and end military conflicts?
The Kyiv Global Summit: Women, Peace & Security, co-hosted by WPL and the Ukrainian Parliament, gathers female politicians and parliamentarians, government officials, diplomats, scientists, experts, business & civil society leaders, as well as delegates from around the world in Kyiv to find answers to these questions. 
The Kyiv Global Summit: Women, Peace & Security is set to take place on the 1st and 2nd of October, 2020. Taking place in Kyiv, Ukraine, the geostrategic location of the Conference and its timing grants a uniquely personal perspective into security.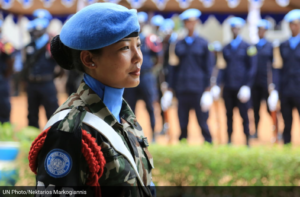 In the spirit of the anniversary of the UNSCR 1325 on women, peace, and security, and in line with the findings of WPL & Kantar's Reykjavik Index for Leadership, the conference focuses on women's unique contribution to the peace and security sector. More specifically, this conference aims to dissect how women's participation at all levels of the peacekeeping process helps cultivate more lasting peace and what concrete policy, legislative, business and other measures can be implemented to dismantle the oppressive stereotypes, institutional barriers and cultural biases that prevent women from accessing and thriving in positions of leadership.