Women European Leaders (WEL), the community of the Women Political Leaders Global Forum (WPL) representing leading women in the EU institutions, hosted a conversation in its "Leadership Journeys" series with Julia Gillard, former Australian Prime Minister (2010-2013) and current Chair of the Board of Directors of the Global Partnership for Education.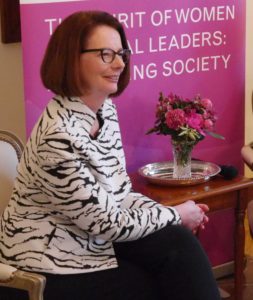 During an inspiring conversation and a convivial gathering aiming to connect senior female leaders in Brussels, Gillard shared with participants  her personal journey to becoming Australia's first woman Prime Minister and her experiences serving in that high position. She also talked about the challenges she had to face specifically as a female political leader: "There is an easy slip when women do controversial policies from talking about the policy to getting into the character question."
Gillard quoted some examples: "An angry man politician can be righteously angry about an injustice, but an angry female politician is hysterical; a man moved to tears is showing his human side, but a woman moved to tears is probably not coping."
"It is also very hard for women to win on the question of family. If you don't have children, it is seen as you don't understand well the family issues. But," the Australian politician also argued, "if you do have children, the question is «How could she have the time to focus all of her energy on politics?"
"This doesn't apply to men. If they have children, it is good because they are 'family men' and there is always an assumption that there is somebody in the background, probably a wife, who is making it possible for him to focus solidly in politics," she added.
Gillard also talked about the current challenges and the role politics should play in the field of gender equality. "Politicians can help with the change agenda and with the communication about why an inclusive political party and an inclusive society doesn't need to threaten traditional voters."
"The challenge for us is to keep advocating gender equality without the message being received by men that «better for us means worse for you». Better for us [women] in no way means better for you [men]. Better for us means better for everybody," Gillard said.
This event was hosted by Ms Helen Stylianou, Deputy Head of the Australian Mission to the EU and NATO. Hanna Birna Kristjánsdóttir, Chair of the WPL Executive Board and former Icelandic Minister of Interior, opened the meeting.
WEL 'Leadership Journeys'
Women European Leaders (WEL) is a key community under the umbrella of WPL. It is an EU cross‐party and inter‐institutional platform for senior female leaders working in the EU institutions: Members of the European Parliament, Commissioners and Director Generals from the European Commission, and Ambassadors to the European Union.
WEL invites remarkable personalities to share the stories of their personal journey to positions of leadership. These convivial gatherings aim to connect senior female leaders in Brussels and provide a relaxed setting to gain personal and professional inspiration.
Pictures of the event can be found here. A summary video will follow soon.