March is Women's History Month – commemorating and encouraging the study, observance, and celebration of the vital role of women in history.
Acknowledging the progressive power of women in preventing conflict and achieving more sustainable peace is a relentless activity. As the year 2020 ushers in the twentieth anniversary of the United Nations Security Council Resolution 1325 (UNSCR1325) on women, peace and security, Women Political Leaders (WPL)  reaffirms its unwavering commitment to this landmark achievement and the UN Sustainable Development Goals, in particular SDG 5.  
UNSCR 1325 was the first to address the impact of armed conflict on women, as well as women's contribution to conflict resolution and sustainable peace and should be used as a benchmark for future activities in this field.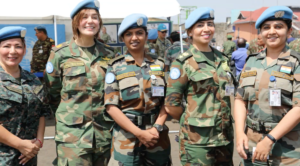 To celebrate Women's History month, Women Political Leaders has partnered with key actors and realised a short video series on UN Sustainable Development Goal 5 "Women, Peace and Security". Thanks to Arizona State University, Commonwealth Women Parliamentarians, the Council of Women World Leaders, the InterParliamentary Union, UN Women, Women's International League for Peace and Freedom (WILPF), and World Pulse for making this video possible.
Throughout its advocacy and policy work, WPL has raised awareness surrounding the unique contributions women afford peacebuilding, peacekeeping and conflict prevention processes. It also recognises the negative impacts that the changing landscape of war, conflict, and crisis will have on global society; the consequences of which disproportionately affect girls and women. 
Spearheading an international conversation about women's involvement in peace and security, WPL hosted its second annual Power Together: Reykjavik Summit at the Höfði House in November 2019. The gathering convened top-level female politicians from around the globe with the aim of investigating and recommending new strategies to increase female participation in peace and security sectors.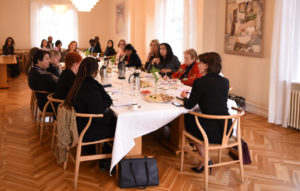 In line with the Höfði House meeting, WPL returned to the Munich Security Conference in February 2020, to host a high-level roundtable gathering of women political leaders so that they could offer their insight and expertise regarding the world's most pressing security threats. 
Early October WPL will co-host the  Kyiv Global Summit: Women, Peace, and Security in Kyiv, Ukraine. The conference is set to provide a platform for leading experts on peace and security to critically approach contemporary security challenges in a collaborative environment and to advocate for problem-based learning as a means of reaching innovative solutions to real-world problems. 
The outcomes of these conversations voice the concerns of women globally: that a lack of accountability, implementation mechanisms and funding is substantially hindering progress. WPL has not lost sight of its goals in the long term battle to achieve equality for women. It will continue to advocate for the full and equal participation of women in peace and security processes through collaborative, creative and sustained efforts driven by women themselves.